If you're hunting for a thrilling nightlife escapade, our Las Vegas Nightclub Crawls are precisely what you need. At Party Bus Inc, we specialize in curating the ultimate VIP-style nocturnal adventure, ensuring your night in Sin City is one to remember.
Curious as to why our Las Vegas Nightclub Tours outshine the rest? Here are a few reasons that set us apart:
An Array of Top-tier Nightclubs
Where does the magic of our Las Vegas Nightclub Crawls begin? From a carefully chosen selection of party hotspots. Though the itinerary is dynamic, we promise that only the most elite and electrifying nightclubs make the cut.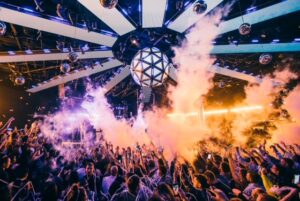 We take you to four of the finest clubs Las Vegas has to offer, ensuring each stop introduces you to a new facet of Sin City's bustling nightlife. We avoid the underwhelming, second-rate clubs, focusing solely on the freshest and most celebrated destinations.
Premier VIP Perks of Our Las Vegas Nightclub Crawls
While exploring four prestigious nightlife venues is a privilege in itself, our Las Vegas Nightclub Crawls offer a host of additional perks.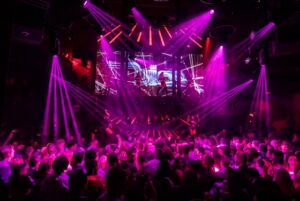 Join us, and you'll find yourself enjoying instant VIP nightclub access, bypassing long lines and avoiding entrance fees. We also offer exclusive VIP drink specials to help your night go smoother. Additionally, our Las Vegas Nightclub Crawls are led by vibrant, experienced guides who know the city like the back of their hand.
The Extravagant Party Bus Experience
As you might guess from our name, Party Bus Inc, our Las Vegas Nightclub Crawls include more than just walking from club to club. We enhance your club hopping experience with our luxurious party bus — think comfortable leather seats, changing lights, immersive music, and yes, even stripper poles. It's a nightclub on wheels!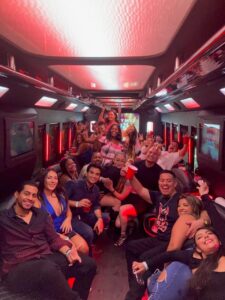 We also offer an open bar on the bus, allowing you to enjoy a few drinks before even stepping into a club. Plus, our Las Vegas Nightclub Tours include not just one, but two rides in this mobile nightclub. It's an experience most clubbers in Sin City would find irresistible!
Affordable Pricing for Unmatched Experiences
Given the top-tier nightclubs, alluring VIP perks, and extravagant party bus rides included in our Las Vegas Nightclub Crawls, you might assume the price to be steep. However, at Party Bus Inc, we believe in offering an unforgettable experience without breaking your bank.
Our Las Vegas Nightclub Crawls are priced affordably, ensuring everyone has the opportunity to enjoy Sin City's nightlife like a VIP. Thanks to our relationships with key figures in the city's top clubs, we provide an unmatched experience without burning a hole in your pocket.
But our Las Vegas Nightclub Tours' charm isn't just about clubs, party buses, or savings. It's the unforgettable memories you make, the diverse set of people you meet, and the unique, joyful moments you collect that define the experience. 

By joining us, you become part of a global community of party lovers who understand and appreciate Las Vegas's pulse. We take you on a rollercoaster ride through the city's vibrant heart, spotlighting the best it has to offer. Every second of our Las Vegas Nightclub Tour is brimming with excitement, every move uncovers a new surprise, and every night ends with a high note of satisfaction. 
The last essential piece that makes our Las Vegas Nightclub Crawls truly unparalleled is you! We believe that our party-goers are the lifeblood of our crawls. Your vibrant energy, infectious enthusiasm, and the sheer love for a grand party make our Las Vegas Nightclub Tours genuinely extraordinary.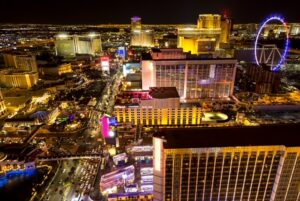 We're delighted to create the perfect backdrop for your incredible night out, but it's your participation that truly sets the stage on fire.
In a nutshell, our Las Vegas Nightclub Crawls offer a comprehensive VIP experience that epitomizes the spirit of Las Vegas nightlife. With us, you're not merely a spectator; you're an essential participant in Sin City's most pulsating party. So, are you ready to dive into the exhilarating nightlife adventure that our Las Vegas Nightclub Tours promise?
Next Steps...
If you're ready for an unforgettable party time, check out our upcoming Las Vegas nightclub tours and book your tickets today!